This Weekend: Through a Child's Eyes changes lives in Wilsonville
DO YOU WANT TO BECOME A TACE VOLUNTEER?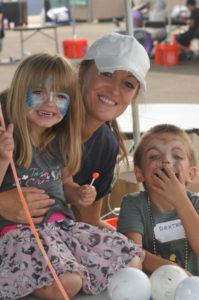 Rotary International's Award winning Through A Child's Eyes mother/child bonding program held in partnership with Coffee Creek Correctional Facility is coming up on Saturday and Sunday, July 8 and 9. It's too late to join this year but for next year, requirements to be a volunteer are: you must pass a simple background check, take a one hour class on a choice of dates, be a non-judgmental role model, and be willing to dispense unconditional love. Volunteers are assigned a game or craft to assist with, helping the youth and their families get the most out of the day.
It is very heartwarming to see these disadvantaged children spending important binding time with their inmate moms. They experience a carefree day enjoying BBQ and playing crafts and games together. Warning! You'll be challenged to keep a dry eye when it comes time for the families to say goodbye at the end of the day.
This is the 15th year for this remarkable program, which is held outdoors but within the prison fences. Many of our volunteers have been with us for over a decade. We are a little short of volunteers this year because it is at the end of the 4th of July week. If you are interested, please talk to a Wilsonville Rotarian or contact Doris Wehler at 503-682-0426.