UPDATE: Thursday concert cancelled, Aug. 3 due to heat advisory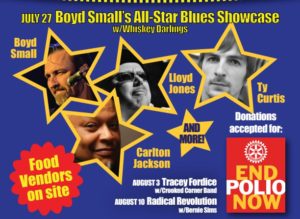 CONCERT UPDATE:
Due to an excessive heat and health warnings in effect for Thursday, August 3, the Wilsonville Rotary Concert is cancelled.
Tracey Fordice will headline now on the rescheduled date of August 24. The concert will begin at 5pm in Town Center Park with headliner Crooked Corner Band; Tracey Fordice will begin at 6pm.
The 2017 Wilsonville Rotary Summer Concerts started out on August 20 with a record-breaking crowd and record-breaking funds raised, more than $4,800, for End Polio Now. Johnny Limbo and the Lugnuts broke attendance records, with an estimated 2,500 Wilsonville family and friends in Town Center Park.
The Rotary Club of Wilsonville has produced the concerts in Town Center Park annually since 2002 to thank residents for supporting Rotary throughout the year. All shows are FREE, but donations for End Polio Now are accepted at the event.
Wilsonville Rotary president, Tim Crowley, said, "It seems fitting to share music together, to dance together, to watch our children splash together in the fountain in Town Center Park as we celebrate our community and how powerful we can be when we join together in common cause, to End Polio Now. Whether you can give $1 or $20 at the concert, your donations really mean something to children at risk of getting polio. We are so happy to share all four of these special evenings with you this summer. Thank you for being a part of this great community."
There are still concerts remaining this summer, with the line up on four consecutive Thursdays, from July 20 to August 10. Opening acts will take the stage at 5:30 p.m., followed by the headliners at 6:30:
CANCELLED: Thursday, August 3 — Tracey Fordice will perform her blend of rock, blues and soul, featuring a tight band and Tracey's powerhouse vocals. Crooked Corner Band, which plays rock covers and originals and features strong 3- and 4-part harmonies, will open. NEW DATE AUGUST 24.
Thursday, August 10 — Radical Revolution will bring their popular '80s tribute back to Town Center Park for the third time. This Portland-based combo is very popular on the local scene and has drawn increasingly large crowds wherever they go, including in Wilsonville. Singer-songwriter Bernie Sims will open, playing original adult contemporary compositions with a jazzy verve that are inspired by Steely Dan, Kenny Loggins, Boz Scaggs, Billy Joel, Paul McCartney and others.
The series is co-chaired by local Rotarians Curt Kipp and John Holley and staffed by the full club. "We are tremendously excited about this year's lineup," Kipp said. "Something like the Boyd Small All-Star Blues Showcase has never been done here before, and people shouldn't miss the chance to see that much explosive blues talent on the stage at once. Tracey Fordice is also new to the series and is going to blow people away with her powerhouse vocal talent. Radical Revolution always thrills the crowd when they come here, because they sound like your favorite '80s pop radio station, from new wave to party rock, cranked up to the max. And there's a reason we've now booked Johnny Limbo and the Lugnuts 13 years in a row. They pack the house — in fact we affectionately call them Wilsonville Rotary's House Band — but then they tear it down."
Attendees are urged to bring a lawn chair or beach blanket and their figurative dancing shoes. It's a great opportunity to bring picnic food, buy dinner from one of the in-the-park vendors, or get takeout from a local restaurant en route. Large crowds are expected and people are advised to get there early for the best choice of spots on the lawn.
Those attending are also invited to stop by the Rotary booth and learn more about what their friends and neighbors are doing to help the local and global community.
During intermission of each show, attendees will have the opportunity to make a donation to End Polio Now, a global polio eradication initiative involving Rotary International, the Bill and Melinda Gates Foundation, the World Health Organization and others. A $20 donation is suggested.
Crowley said the effort to eradicate polio is at a critical stage. "End Polio Now is hoping to make polio the second infectious disease to be completely eradicated from the planet, after smallpox," he said. "Thanks to a multi-billion-dollar effort, the disease is endemic in just three countries — Pakistan, Afghanistan and Nigeria — and there are fewer cases reported each year. The Gates Foundation will match, two-for-one, any funds raised by Rotary, including in Wilsonville. That's an amazing multiplier effect that every attendee at the concert series can contribute to, whether they have a spare dollar or the ability to donate more than that."
Rotary International and The Gates Foundation announced on June 13 that they have extended the matching fund arrangement for three years, through 2021, potentially adding another $450 million to the End Polio Now eradication effort.
Last summer the four free Wilsonville Rotary concerts attracted about 4,700 attendees, and raised $7,250. With the two-for-one match by the Bill and Melinda Gates Foundation, it becomes $21,750 — enough to vaccinate more than 20,000 children.
All shows are FREE, thanks to the generosity of sponsors, whom the Rotary encourages residents to support. This series is also supported in part by a grant of the hotel/motel revenues from the City of Wilsonville. Full details on the sponsors, performers and series are online at www.wilsonvilleconcerts.com