Quick response needed: host international students for 2 days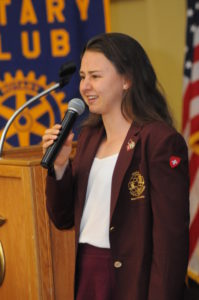 Want to host an international student for two days/nights later in June? Rotary's District 5100 Youth Exchange is offering the opportunity to host two international inbound youths on Thursday and Friday, June 22-23. Hosts would pick up students at the train station on Thursday, and take back to train station early Saturday morning. It would be expected that the host family would show the two youths around Portland/Gorge/Mt Hood or some other Oregon adventure on Friday.
Jake McMichael, coordinator of the Youth Exchange for the Wilsonville Rotary, asks that you send him an email if you are interested, to jakemcmichael@centurytel.net; or contact Steve Schwab at the email or phone below.
Here are more details about the student visit:
2017 SCANEX Train Tour Exchange Student – Host Family Opportunity
I am looking for host families for two nights for 44 students. SCANEX is a Rotary multi-district program that offers their students a final trip at the end of their exchange year that stop here every year. These students are on a 28-day trip around the USA with a two-night stop in Portland. Host families need to host TWO or more students because we are NOT requiring a CBC (Criminal Background Check) for this event. The host family does NOT need to be a Rotarian either, so spread the word to family, friends and neighbors. It is a great opportunity to let families get a feel for hosting students and could help you find new host families for your club for future students.
Here are some of the details for hosting. The students will arrive on the Amtrak train on Thursday, June 22, 2017 at about 3:30 PM in Portland, assuming the train is on time. The host will need to pick the student up at the train station. If a family in Salem wants to host, we can have the students they are host get off the train in Salem. All students need to be back at the train station in Portland on Saturday morning before 8 AM. Students can be dropped off in Vancouver if this works better for the family. We just need to know this is what is happening.
This year is more challenging because the students are here all day on Friday. Usually, the students arrive on Friday or Saturday and depart on Sunday or Monday which gives the host family a weekend day to spend with their students. This year it does not work out for them to be here on the weekend. This is why I am reaching out to all of you to get the word out.
If someone wants to host or you need more information, please have them contact me by email or phone. Thank you for your help in getting the word out.
Steve Schwab – steve@sunsetgarbage.com – 503-939-4122