What is TACE?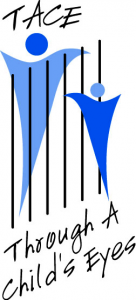 TACE is an acronym for Through A Child's Eyes. The TACE program was founded by Wilsonville Rotarian John Ludlow in 2001. It is a partnership between the Wilsonville Rotary Foundation and the state's only women's prison, Coffee Creek Correctional Facility in Wilsonville.
Studies show children of incarcerated parents often have social and academic challenges, and have up to six times the risk of their peers for juvenile delinquency, depression, drug abuse, and eventual incarceration. The TACE program facilitates bonding opportunities for inmate mothers and their children, with a goal of encouraging more positive relationships between them, both while the women are at Coffee Creek and after they are back with their children.
In July, a Summer Event is held inside the prison yard. It is an opportunity for inmate mothers to practice their bonding and parenting skills. Inmates must earn the right to participate by taking parenting classes and exhibit good behavior. This event is the only event of its complexity in the United States staged inside prison fences. Between children, moms, volunteers and staff, about 800 people attend. Moms and kids take part in interactive games, crafts, and other positive activities. They enjoy a BBQ meal together and discuss what is happening in their children's lives. Best of all, there's lots of time for hugs and kisses. For four hours, no one sees the fences or concertina wire, they only see each other.
The results of the Summer Event have been amazing. One inmate said: "It was the closest I've come to feeling human and being able to set aside the guilt I feel on a daily basis." Another wrote: "Before arriving at CCCF, my life had become unmanageable and my behavior out of control. I am not proud of my past, but I am taking personal charge of cleaning up my life while incarcerated. The TACE event provided me the opportunity to realize how important my recovery is to me, but also to my children."
By helping inmate moms be their best selves for their children, we strive to help prevent them from re-offending and strive to help break the inter-generational cycle of poverty and crime .
The TACE program has almost 200 volunteers from thirty-one different communities. Some are Rotarians, some from religious affiliations, some from service oriented businesses such as Fred Meyer, and dozens more who want to help with this unique program. All show unconditional love and serve as non-judgmental role models. The program is bolstered by tremendous support from the staff and the inmates at Coffee Creek Correctional.
Funds to support TACE are raised at our annual Heart of Gold Celebration. We also receive generous support from the inmates, and grants from OrePac Building Products, Inc., Stimson Lumber Company, and the OCF Joseph E. Weston Public Foundation.
Since 2012, Rotarians John Ludlow and Doris Wehler have promoted a TACE-like program at five men's prisons in Oregon. To help each of them with their fundraising, TACE has purchased popcorn and snow cone machines, with supplies, to help each raise money for their family bonding events. The Hermiston Rotary has become the sponsor for the Umatilla facility and two Portland Rotary clubs sponsor the Portland facility.
TACE is a Rotary International award winning program. To learn more about the Through A Child's Eyes program or to express interest in volunteering, contact Doris Wehler, TACE Secretary, using this contact form.
Wilsonville Rotary Contact Form