International Projects
The Rotary Club of Wilsonville supports many international projects each year. These include:
International Youth Exchange Program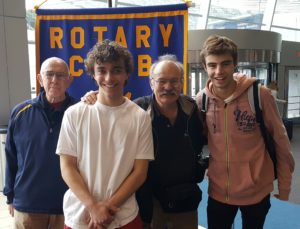 Wilsonville Rotary has reignited our Youth Exchange Program, sending Wilsonville high school students to international locations in Europe and South America, and bringing international students to Wilsonville.
Students' visits can be several weeks or several months, including a complete school year, for both out-going and in-coming youth. This has proven to be an enriching experience for the students and the host families, with memories made and friends formed for a lifetime. Students also tend to experience a lot of personal growth, problem-solving skills, leadership, diplomacy, and simply how to have a great time with new friends.
For more information on opportunities for your student to be in the out-bound or in-bound exchange program through local Rotary affiliations, please contact Jake McMichael at jakemcmichael@centurytel.net
End Polio Now
Every community member who has attended one the Summer Concerts sponsored by the Rotary Club of Wilsonville and made a donation in a Polio Bucket has paid for the very vaccines that are preventing polio from crippling children across the globe. As we've seen with the newly arrived Zika virus in the U.S., disease does not necessarily stop at the border. Only we can prevent it globally.
Today, the U.S. is fortunate that polio has been eradicated from our shores. The world was almost as lucky as well, with polio down to a handful of cases in Pakistan, Afghanistan and Africa. But unfortunately, new cases arise just when this deadly disease is almost eradicated. When the goal is reached, Polio will become only the second worldwide disease in the history of humankind to be eradicated. An annual effort that helps children internationally is our club's support of End Polio Now. Wilsonville's club has raised more money than most clubs, on a per-capita basis, in support of this important effort and the International Rotary Foundation.
Other Initiatives
Other international support has included clean water and solar energy projects in the Third World . Check back for updated information on our current international projects.