It's time: nominate Wilsonville's First Citizen by Dec. 31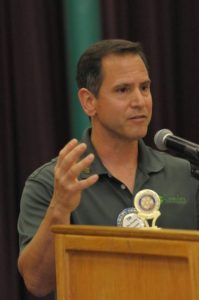 With the passing of Thanksgiving, and Christmas on the horizon, this is a perfect time of year to reflect on the people who truly make a difference in our lives. Each year, the Rotary Club of Wilsonville recognizes the volunteers in our community with our First Citizen Award. We need your help to identify those people in Wilsonville who exemplify the meaning of "community service." It could be your neighbor, family member, business associate, or just an acquaintance. Please take a moment to nominate the person(s) who has touched your life and made our community such a wonderful place to live.
Nominations will be accepted through December 31, 2017, with the finalists announced in January of 2018. The First Citizen will be awarded at Wilsonville Rotary's annual Heart of Gold gala on March 3, 2018 at the Holiday Inn in Wilsonville. To nominate a community member (or couple) who is an exceptional contributor please go to http://www.wilsonvillerotary.com/nominate/ or send me an email at president@wilsonvillerotary.com.
I can't wait to see you all at our Heart of Gold next year to celebrate our theme, "Partners in Service". It will be a Western theme with a BBQ style dinner. We encourage you all to wear your best western attire! There will be an award for the best dressed Cowboy and Cowgirl! Thank you all for making a difference in the lives of others by supporting the activities of the Rotary Club of Wilsonville. We truly are "Partners in Service".