It's time: join Rotary and make a difference in Wilsonville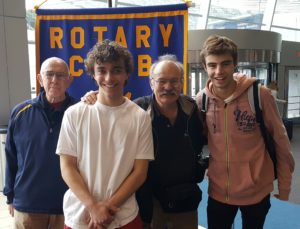 Want to have fun, make a difference, meet great people and build closer connections to the Wilsonville community? Then you've got to join the Rotary Club of Wilsonville for lunch and take the first step to engaging with one of our city's service organization.
Here's what we're involved in right now:
Bringing international experiences to Wilsonville with in- and out-bound student exchange programs
Making a difference in Wilsonville K-12 schools: Fund scholarships; recognize student leaders who make a difference; organize chess programs for elementary school students
Supporting K-12 school events with breakfast events that provide funds to support Wilsonville students, and others for community events
Engaging with issues, programs and organizations that impact our community through weekly speaker series
Build comradery and fellowship with individuals who live or work in Wilsonville and environs through organized volunteer efforts
Supporting Through a Child's Eyes summer events to unite Coffee Creek female inmates with their children in a safe, fun atmosphere
Building community and support for international polio irradiation with our famous free Summer Concert Series with top performers
Recognizing Wilsonville's top citizens at our annual Heart of Gold fundraiser.
Why join? It's fun, it makes a difference, you'll meet great people and build closer connections to the Wilsonville community. Join us most Thursdays from noon to 1pm for lunch at the Al Kadar center in Wilsonvillle; or contact Richard Martens at martens.r@gmail.com. Visit our website at: wilsonvilllerotary.com