Nominations for 2017 First Citizen Award Now Open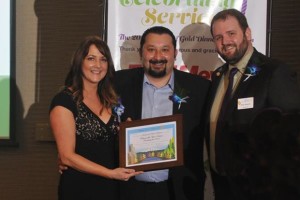 The Rotary Club of Wilsonville is now accepting nominations for the 2017 First Citizen Award to honor a local community member or couple for exceptional volunteerism and community service. Since 1983, our Club has recognized and honored 29 Wilsonville First Citizen recipients, which occurs at our annual Heart of Gold celebration each winter.
At the 2016 Heart of Gold Celebration, Sherine and Jaimy Beltran accepted the 2015 Wilsonville First Citizen award from Rotary Club of Wilsonville then-president Kyle Bunch. The 2016 First Citizen Award will be presented at the February 25, 2017 Heart of Gold event. Besides the Beltrans, prior winners include Donna Bane, Kathryn Whittaker, Jay Puppo, Dick Spence, Debi Laue, Lonnie and Julie Gieber, Theonie Gilmore, Anne Easterly, Ron Anderson, Bob and Judy Woodle, Alan Kirk, Doris Wehler, Sue Ludlow, John Ludlow, Charlotte Lehan and Dr. Laura LaJoie Bishop.
"Our Heart of Gold Dinner and Auction exists so we can celebrate Wilsonville's great volunteers, engaged citizens, and the important service projects that benefit the city," said Rotary Club President Richard Martens. "But to do that, we need the community's help to identify the next deserving honoree who exemplifies what makes Wilsonville such a wonderful community in which to live and work."
Nominations for First Citizen will be accepted until early Dec. 2017. A committee made up of Rotary and other Wilsonville community leaders, will then select a small group of finalists and, ultimately, the 2017 Wilsonville First Citizen. The finalists will be announced in January 2018, and the winner at the Rotary's Heart of Gold Dinner and Auction.
To nominate a community member (or couple) who is an exceptional volunteers go to www.WilsonvilleRotary.com/nominate or send an email to president@wilsonvillerotary.com. There is also a PDF nomination form that you can print and mail.